Ross J. Kartez is an industry leader in the field of complex commercial dispute resolution. In addition to his work as a member of the Firm's commercial litigation department, Ross is an independent mediator and commercial arbitrator. Ross was elected to serve as the Chair of the Dispute Resolution Section of the New York State Bar Association from 2021 to 2022. With over 1,500 members, the Dispute Resolution Section is the most active bar organization in the country devoted to the study, promotion, and development of mechanisms for resolving complex disputes. Ross also acts as outside general counsel for a handful of companies and commonly recommends including dispute resolution practitioners in the day-to-day operations of businesses.
Ross handles a wide-range of disputes, dealing with important small claims matters to issues involving hundreds of millions of dollars. Ross' practice focuses primarily on matters involving breach of contract claims, insurance coverage issues, real estate disputes, lender recourse, secured claims, enforcing guarantees, securities matters, shareholder and partnership claims, business torts, employment disputes, alternative dispute resolution and other business-related issues.
A large portion of Ross' practice involves claims related to professional liability, and errors and omissions. This includes defending and pursuing claims against attorneys, stockbrokers, broker-dealers, investment advisors, accountants, architects, engineers, directors, officers, insurance agents/brokers, and members of the real estate industry. Ross regularly advises insurers, insureds, policyholders, and other parties related to claims and defenses in complex insurance coverage and other insurance-related matters.
Ross' success and leadership in the dispute resolution field resulted in his invitation to join the American Arbitration Association's prestigious Panel of Commercial Arbitrators. Ross joined the AAA's highly-regarded Panel as one of the youngest arbitrators in the country. Ross regularly lectures on the importance of utilizing strategic and creative approaches to resolving disputes, and is the creator and co-chair of the Judith S. Kaye Arbitration Competition, the premiere arbitration competition for law students in the New York metropolitan area. While at St. John's University School of Law, Ross served as an executive board member of the Dispute Resolution Society and participated in the prestigious International Chamber of Commerce Mediation Competition in Paris, France, as well as the St. John's/FINRA Securities Dispute Triathlon in New York City. While in law school, he gained experience representing clients as an intern for the St. John's University Securities Arbitration Clinic.
Ross' success as a lawyer has led to various industry recognitions, including his inclusion in the Long Island Business News' 40 Under 40 List and the Long Island Herald's Inaugural Top Lawyers of Long Island. Ross was only one of two litigation attorneys named a Top Lawyer of Long Island. At the outset of his career, The Hugh L. Carey Center for Dispute Resolution at St. John's School of Law awarded Ross the Mangano Grant, a grant awarded to young alumni to pursue opportunities and conduct research in the field of alternative dispute resolution. Ross has been included on the Super Lawyer "Rising Star" list for 2020 and 2021, an honor reserved for only 2.5% of lawyers within New York State.
Ross represents clients in Federal Court, State Court, and all arbitration forums (including AAA, JAMS, FINRA, ICC, CPR, and NAM). Ross is admitted to practice law in the State of New York, the State of New Jersey, and the U.S. District Courts for the Southern, Eastern, Northern, and Western Districts of New York. He is a member of the NYSBA's Dispute Resolution Section, Commercial and Federal Litigation Section, and International Section. He has been published in the Dispute Resolution Lawyer, and currently serves on the Executive Committee of both the Dispute Resolution Section and the International Section.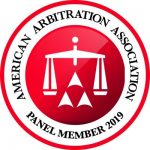 Back to Directory
Print